Jamb and Joint
Jamb
Door and window jambs used in exterior aesthetic appearance and detail analysis can be applied in different models and sizes.
Along with the jamb applications that give a decorative appearance to the exteriors of your houses, special paints that have the feature of washing and cleaning themselves with the rain are used to prevent their contamination over time, and it is ensured that they add the same aesthetic value to your houses for many years. Facade jamb applications, if professional methods and products are used, have a life equivalent to the life of the building and add value to your houses.
What is Jointed Sheathing?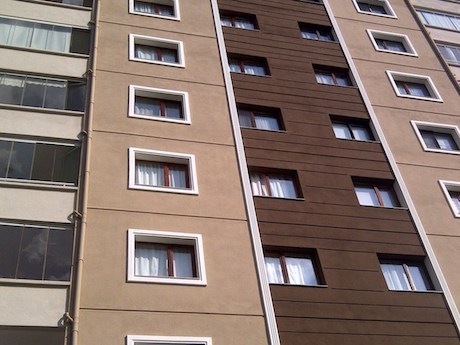 Fuga heat insulation coatings consist of 6 types of chemicals and various minerals and are not affected by adverse weather conditions as they have high resistance to harsh weather conditions, thus providing high durability on EPS insulation boards. Jointed sheathing coatings can be applied with 2 different methods and add value to your residences.
The boards (EPS, rockwool, etc.) used for exterior insulation are fixed to the wall from bottom to top, the gap channels are opened to the desired areas with special cutting tools and aluminum gap profiles are placed.
Specially manufactured joint profiles are applied together with sheathing plates, there is no need for cutting. It can be applied faster than the first method, it does not create a thermal bridge at the joints. Maintaining its leadership in the thermal insulation sector with its quality applications, Varna Yapı adds value to its environment with additional services it provides to its customers, apart from thermal insulation applications. Varna Yapı, which provides a wide range of additional application services with its strong supplier network, offers tailor-made solutions to its customers by following the trends in the world and Turkey with its innovative identity. You can fill out our free survey form or contact us at 0216 540 14 40. Our customer representatives will call you as soon as possible and help you choose the most suitable package system for your building and make your discovery appointment process.